Main Content Area
Physiology Faculty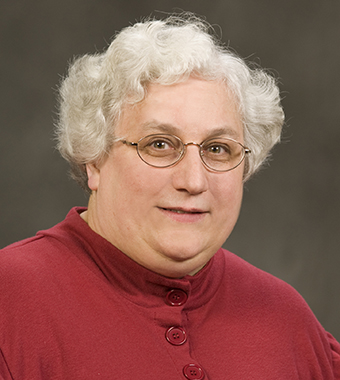 Lydia A. Arbogast
Professor
Ph.D. Indiana University
Department of Physiology
Life Science III, Rms 2015, 2021, 2025

Office Hours: By Appointment
Links
No links currently available
Courses
ERG Unit (medical school)
PHSL-510-Course Director
PHSL 410B- Lecturer for Female Reproductive Physiology
PHSL 491/492
PHSL 590
PHSL 598
PHSL 599
PHSL 600
Research Interests
Reproductive neuroendocrinology is our research area. We are interested in how neurons in the hypothalamic region of the brain regulate hormone release from the anterior pituitary gland and how hormones from the pituitary gland and peripheral target tissues, such as the ovary, feed back to regulate these hypothalamic neurons.
One focus of the laboratory is the cellular and molecular mechanisms involved in the regulation of hypothalamic neuronal activity, particularly as related to feedback to the hypothalamus by prolactin from pituitary gland and steroid hormones, estradiol and progesterone, from the ovary. These studies involve evaluating the transcriptional and post-translational control of regulatory enzymes in neurotransmitter biosynthesis. An integrative approach is used to identify role of cell signaling and molecular mechanisms in normal physiologic or endocrine states.
A second focus of our laboratory is the hypothalamic control of prolactin secretion during the female reproductive cycle, pregnancy and lactation. Hypothalamic dopaminergic neurons provide the major inhibitory control to prolactin release and thus are of key interest in our studies. Other neuronal inputs, including kisspeptin and opioid neurons, may influence these dopaminergic neurons, but the neuronal circuitry is incompletely understood. Our experiments evaluate how these neuronal groups interact to control prolactin secretion and the cellular and molecular changes elicited by these interactions.
Funding
NIH R03 HD078622-01 Androgen and progesterone actions on catecholaminergic neurons: In vivo study
Selected Publications
Ben-Jonathan N, Neill MA, Arbogast LA, Peters LL, Hoefer MT. Dopamine in hypophysial portal blood: Relationship to circulating prolactin in pregnant and lactating rats. Endocrinology 106:690-696, 1980

Bahr JM, Arbogast LA, Wang S-C, Dial OK, Ben-Jonathan N. Ovarian catecholamines and ovulation. In: Dynamics of Ovarian Function, edited by NB Schwartz and M Hunzicker-Dunn, pp 129-133, Raven Press, New York, 1981

Ben-Jonathan N, Arbogast LA, Rhoades TA, Schillo KK, Pau KF, Jackson GL. Plasma catecholamines in the chronically cannulated sheep fetus: Predominance of L-dihydroxyphenylalanine. Endocrinology 113:216-221, 1983

Peleg D, Arbogast LA, Peleg E, Ben-Jonathan N. Predominance of L-Dopa in fetal plasma and the amniotic fluid during late gestation in the rat. Am J Obstet Gynecol 149:880-883, 1984

Ben-Jonathan N, Arbogast LA, Rhoades TA, Bahr JM. Norepinephrine in the neonatal ovary: Ontogeny and de novo synthesis. Endocrinology 115:1426-1431, 1984

Bahr JM, Ritzhaupt LK, McCullough S, Arbogast LA, Ben-Jonathan N. Catecholamine content of the preovulatory follicles of the domestic hen. Biol Reprod 34:502-506, 1986

Arbogast LA, Garris PA, Rhoades TA, Ben-Jonathan N. Changes in ovarian norepinephrine synthesis throughout the follicular and luteal phases. Biol Reprod 36: 899-906, 1987

Arbogast LA, Ben-Jonathan N. The preovulatory prolactin surge: An evaluation of the role of dopamine. Endocrinology 123:2690-2695, 1988

Ben-Jonathan N, Murai I, Hyde JF, Arbogast LA, Garris PA. Novel functions of the posterior pituitary dopaminergic systems. Progress in Catecholamine Research Part B; Central aspects, edited by M Sandler, A Dahlstrom and RA Belmaker. Allen Liss Press, 1988.
Arbogast LA, Murai I, Ben-Jonathan N. Differential alterations in dopamine turnover rates in the stalk-median eminence and posterior pituitary during the preovulatory prolactin surge. Neuroendocrinology 49:525-530, 1989

Arbogast LA, Ben-Jonathan N. Tyrosine hydroxylase in the stalk-median eminence and posterior pituitary is inactivated only during the plateau phase of the preovulatory prolactin surge. Endocrinology 125:667-674, 1989

Ben-Jonathan N, Arbogast LA, Hyde JF. Regulation of prolactin secretion by neurohormones. Prog Neurobiol 33: 399-447, 1989

Arbogast LA, Ben-Jonathan N. The preovulatory prolactin surge is prolonged by a progesterone-dependent dopaminergic mechanism. Endocrinology 126:246-252, 1990

Voogt JL, Arbogast, LA, Quadri K, Andrews GK. Changes in tyrosine hydroxylase mRNA in the hypothalamus, substantia nigra and adrenal of old female rats. Mol Brain Res 8:55-62, 1990

Arbogast LA, Voogt JL. Sex-dependent alterations in hypothalamic tyrosine hydroxylase after neonatal monosodium glutamate treatment. Neuroendocrinology 52:460-467, 1990

Arbogast LA, Voogt JL. Hyperprolactinemia increases and hypoprolactinemia decreases tyrosine hydroxylase messenger ribonucleic acid levels in the arcuate nuclei, but not the substantia nigra or zona incerta. Endocrinology 128: 997-1005, 1991

Arbogast LA, Voogt JL. Ontogeny of tyrosine hydroxylase mRNA signal levels in central dopaminergic neurons: Development of gender difference in the arcuate nuclei. Dev Brain Res 63:151-161, 1991

Arbogast LA, Voogt JL. Mechanisms of tyrosine hydroxylase regulation during pregnancy: Evidence for protein dephosphorylation during the prolactin surge. Endocrinology 129:2575-2582, 1991

Arbogast LA, Soares MJ, Tomogane H, Voogt JL. A trophoblast specific factor(s) suppresses circulating PRL levels and increases tyrosine hydroxylase activity in tuberoinfundibular dopaminergic neurons. Endocrinology 131:105-113, 1992

Mathiasen JR, Arbogast LA, Voogt JL. Central administration of serotonin decreases tyrosine hydroxylase catalytic activity and mRNA signal levels in the hypothalamus of female rats. J Neuroendocrinol 4:631-639, 1992

Tomogane H, Arbogast LA, Soares MJ, Robertson MC, Voogt JL. A factor(s) from a rat trophoblast cell line inhibits prolactin secretion in vitro and in vivo. Biol Reprod 48:325-332, 1993

Arbogast LA, Soares MJ, Robertson MC, Voogt JL. A factor(s) from a trophoblast cell line increases tyrosine hydroxylase activity in fetal hypothalamic cell cultures. Endocrinology 133:111-120, 1993

Arbogast LA, Voogt JL. Progesterone reverses the estradiol-induced decrease in tyrosine hydroxylase mRNA levels in the arcuate nucleus. Neuroendocrinology 58:501-510, 1993

Arbogast LA, Voogt JL. Progesterone suppresses tyrosine mRNA levels in the arcuate nucleus on proestrus Endocrinology 135:343-350, 1994

Arbogast LA, Voogt JL. Pituitary adenylate cyclase activating polypeptide (PACAP) increases prolactin release and tuberoinfundibular dopaminergic neuronal activity. Brain Res 655: 17-24, 1994

Arbogast LA, Voogt JL. Hypoprolactinemia decreases tyrosine hydroxylase activity in the tuberoinfundibular dopaminergic neurons acutely by protein dephosphorylation and chronically by changes in gene expression. Endocrine 3:801-806, 1995

Arbogast LA, Voogt JL. The responsiveness of tuberoinfundibular dopaminergic neurons to prolactin feedback is diminished between early lactation and midlactation in the rat. Endocrinology 137:47-54, 1996

Voogt JL, Soares MJ, Robertson MC, Arbogast LA. Rat placental lactogen-I abolishes nocturnal prolactin surges in the pregnant rat. Endocrine 4:233-238, 1996

Arbogast LA, Voogt JL. Prolactin (PRL) receptors are colocalized in dopaminergic neurons in fetal hypothalamic cell cultures: Effect of PRL on tyrosine hydroxylase activity. Endocrinology 138:3016-3023, 1997

MohanKumar PS, MohanKumar SMJ, Arbogast LA, Quadri SK, Voogt JL. Effects of chronic hyperprolactinemia on tuberoinfundibular dopaminergic neurons. Proc Soc Exp Biol Med 217: 461-465, 1998

Lee YS, Arbogast LA, Voogt JL. Semicircadian rhythms of c-Fos expression in several hypothalamic areas during pregnancy in the rat: relationship to prolactin secretion. Neuroendocrinology 67:83-93, 1998

Arbogast LA, Voogt JL. Endogenous opioid peptides contribute to suckling-induced prolactin release by suppressing tyrosine hydroxylase activity and mRNA levels in the tuberoinfundibular dopaminergic neurons. Endocrinology 139: 2857-2862, 1998

Arbogast LA, Shah GV, Voogt JL. 3',5' Cyclic adenosine monophosphate mediates the salmon calcitonin-induced increase in hypothalamic tyrosine hydroxylase activity. Endocrinology 140:3273-3281, 1999

Moore Jr JP, Cai A, Hostettler ME, Arbogast LA, Voogt JL and Hyde JF. Pituitary hormone gene expression and secretion in human growth hormone-releasing hormone transgenic mice: focus on lactotroph function. Endocrinology 141:81-90, 2000

Arbogast LA, Hyde, JF. Estradiol attenuates the forskolin-induced increase in hypothalamic tyrosine hydroxylase activity. Neuroendocrinology 71:219-227, 2000

Tohei A, VandeGarde B, Arbogast LA, Voogt JL. Calcitonin inhibition of prolactin secretion in lactating rats: Mechanism of action. Neuroendocrinology 71:327-332, 2000

Arbogast LA. Calmodulin and a cyclic nucleotide protein kinase facilitate the prolactin-induced increase in tyrosine hydroxylase activity in tuberoinfundibular dopaminergic neurons. Endocrine 16:105-112, 2001

Voogt JL, Lee Y, Yang S, Arbogast LA. Regulation of prolactin secretion during pregnancy and lactation. Prog Brain Res 133:173-185, 2001

Arbogast LA, Voogt JL. Progesterone induces dephosphorylation and inactivation of tyrosine hydroxylase in hypothalamic dopaminergic neurons. Neuroendocrinology 75:273-281, 2002

Nahi F, Arbogast LA. Prolactin modulates hypothalamic preproenkephalin, but not proopiomelanocortin, gene expression during lactation. Endocrine 20:115-122, 2003

King SS, Jones KL, Mullenix BA, Heath DT, Everson KA, Arbogast LA. Evidence for dopaminergic activity in equine follicles and ovarian germinal epithelium. Animal Reprod Sci 94: 175-178, 2006

Liu B, Arbogast LA. Phosphorylation state of tyrosine hydroxylase in the stalk-median eminence is decreased by progesterone in cycling female rats. Endocrinology 149:1462-1469, 2008 PMID: 18096660

Arbogast LA. Estrogen genomic and membrane actions at an intersection. Trends Endocrinol Metab 19:1-2, 2008

Xie X, Mhaskar Y, Arbogast LA, Trammell RA, Hughes LF, Toth LA. Caffeine-induced behavioral activation in NF-κB p50 subunit knockout mice. Life Sci 85:226-234, 2009 PMID: 19508875

Liu B, Arbogast LA. Gene expression of intracellular and membrane progesterone receptor isoforms in the mediobasal hypothalamus of rat during pro-oestrus. J Neuroendocrinol 21:993-1000, 2009

Liu B, Arbogast LA. Progesterone decreases tyrosine hydroxylase phosphorylation state and increases protein phosphatase 2A activity in the stalk-median eminence of rats on proestrous afternoon. J Endocrinol 204:209-219, 2010

Tavakoli-Nezhad M, Arbogast LA. Mu and kappa opioid receptor expression in the mediobasal hypothalamus and effectiveness of selective antagonists on prolactin release during lactation in rats. Neurosci 166:359-367,2010

Arbogast LA. Tuberoinfundibular Peptide of 39 Residues (TIP39): A new player in the translation of sensory input to prolactin release during lactation. Endocrinology 151:5568-5569, 2010

Jensik PJ, Arbogast LA. Differential and interactive effects of ligand-bound progesterone receptor A and B isoforms on tyrosine hydroxylase promoter activity. J Neuroendocrinol 23:915-925, 2011
Jensik PJ, Arbogast LA.  Regulation of cytokine inducible SH2 domain protein (CIS) by ubiquitination and Elongin B/C interaction.  Mol Cell Endocrinol 401:130-141, 2015