Main Content Area
Recent Undergraduate Achievements
2018
Honors Day
On April 14, 2018 the Department of Physiology participated in the annual SIUC Honors Day program. Click herefor more information on the students honored.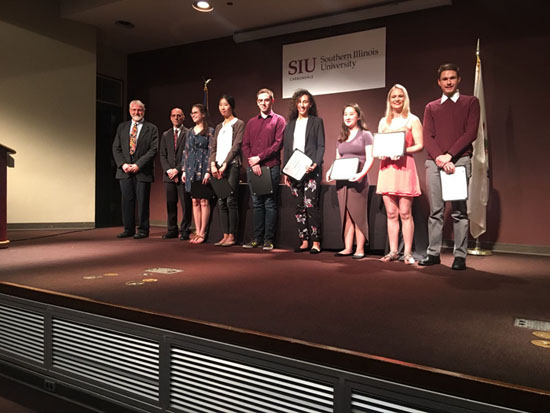 Physiology undergrad named SIU's 2018 Student Employee of the Year
Jensen Cloe, a senior Physiology major, was presented this award for her work with Recreational Sports and Services. Click here for more information.
2017
Physiology undergraduate student receives Lincoln Laureate
Kara Starkweather received the prestigious Lincoln Laureate award from SIUC. Each college nominates one scholar and then SIUC selects ONE of these scholars as this year's Lincoln Laureate. She will receive a medal from the Governor and will receive a scholarship in honor of this distinction. https://thelincolnacademyofillinois.org/
Physiology undergraduate student receives Fellowship
Elizabeth Geerling was awarded the 2017 Summer Research Fellowship Award from the Endocrine Society to perform research in the lab of Dr. Prema Narayan.
Recent publications from Physiology undergraduate researchers
Scott CA, van Huyen D, Bany BM. Angiopoietin-like gene expression in the mouse uterus during implantation and in response to steroids. Cell Tissue Res. 2012 Apr;348(1):199-211. Epub 2012 Feb 22. PubMed PMID: 22350948; PubMed Central PMCID: PMC3319254.
Bany BM, Scott CA, Eckstrum KS. Analysis of uterine gene expression in interleukin-15 knockout mice reveals uterine natural killer cells do not play a major role in decidualization and associated angiogenesis. Reproduction. 2012 Mar;143(3):359-75. Epub 2011 Dec 20. PubMed PMID: 22187674; PubMed Central PMCID: PMC3307949.
Charles A Scott, Kirsten S. Eckstrum and Brent M. Bany. Localization of C-Fos-Induced Growth Factor (Figf) mRNA Expression in the Mouse Uterus during Implantation. Reprod Sys Sex Disord (in press).